test
Are you starting at The Piggott School in September 2021? If so, we hope you are as excited to meet us as we are to meet you.
Saying goodbye to your primary school and moving to a bigger school with many more students can be a daunting prospect for many students. It is important to us that your transition to The Piggott School is enjoyable, and although you cannot experience the things many other students before you have been afforded, we will still do our best to ensure that your transfer to The Piggott School is as smooth and memorable as possible.
We are pleased to present some additional videos with a welcome message and key information from:
Mr Derren Gray, Headteacher sharing our vision and values, and the opportunities you will have at The Piggott School.
Mrs Rebecca Alexander, Deputy Headteacher discussing safeguarding and our expectations of students.
Mrs Vicky Knopp, Head of Year 7 discussing what you can expect on your first day of school.
Mrs Katie Hopkins, Head of P.E. sharing important information about the PE kit for 2021-22 and after school clubs.
Below we have provided you with a series of videos including:
Our welcome video a reminder of the things you have to look forward to when you start secondary school in September
A virtual tour of the school site
A welcome message from our Headteacher, Mr Gray
An Introduction by your Head of Year 7, Ms Vicky Knopp who is very keen to meet you all
Key Dates
Please see below some key dates for Year 6 students moving up to Year 7 at The Piggott in September 2021.
From 25th June 2021: Information packs sent out with details of your child's tutor group and house
Wednesday 7th July 2021: Induction Evening (Virtual Event)
From Wednesday 7th July 2021: Information packs sent out with details of our school day, equipment, the canteen and other information.
Monday 9th August - Friday 13th August 2021: The Piggott Summer School
Thursday 2nd September, 2021: First day of term (for Year 7 & 12 only)
Friday 3rd September, 2021: All year levels at school
Uniform
Please see details of the school uniform and how to purchase here. As you may be aware we operate a "House" system within the Piggott School. The sweatshirts have different coloured logos to represent the Houses. Parents will have received a letter informing them of the House that they will join so that the correct colour can be purchased. Please see the below leaflets on current arrangments to buy uniform from our suppliers Stevensons and Different Class (PE kit)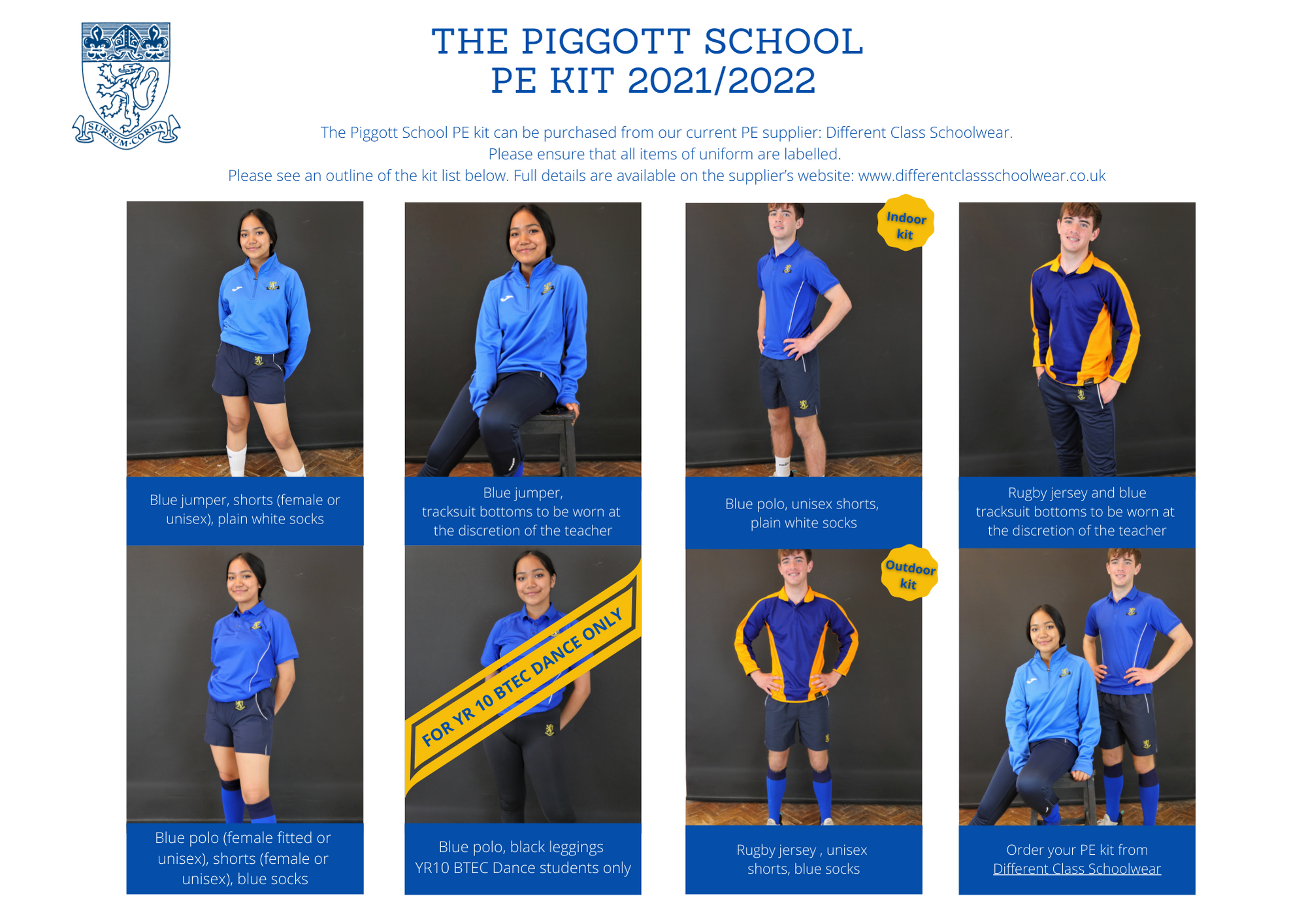 Equipment
You will find a list of recommended equipment in the information booklet and letters sent to you in the post.
Calculators for maths
A scientific calculator will be useful for all students. The recommended calculator is the Casio fx-83GTX, available here for instance: www.amazon.co.uk/Casio-fx-83GTX-Scientific-Calculator-Black/dp/B07L5YWTPH/ref=sr_1_3?dchild=1&keywords=casio+fx+-+83gtx&qid=1594816012&sr=8-3
Full price £14.99 but currently on offer at £9.99. Available in dark grey, blue and pink.