In the community
We are proud of the work we do to build positive relationships with our local community. Links with our local community help us to build relationships with groups and individuals who will provide positive experiences for our students to "Go and Do Likewise".
WHAT'S ON IN THE COMMUNITY?
ENTERPRISING EDUCATION
For the last eight years, Year 11 students have been taking part in the Twyford Business Enterprise Project, a partnership between the school and Twyford Together. Students are put into pairs and tasked with coming up with an idea for a local business that would work in Twyford.
Through Twyford Together, each of the pairs are then given a business mentor, who will discuss their projects with them and give them feedback and ways to improve.
The competition sees the pairs face two heats, presenting their projects and taking questions in front of a panel of judges. They then recommend five or six of the groups to go through to the grand final, where groups would present their idea in a Dragon's Den style pitch.
Some previous business ideas include going to people's houses to teach them how to cook, providing a delivery service on a pedal bike for restaurants in Twyford, a wine lounge, tutoring companies, and dog walking companies.
In 2020/2021, students came up with ideas such as antique repairs and soap making. For the last five years, Millgate Homes has sponsored the initiative, providing the winners with £100 of John Lewis vouchers, the runners-up receive £50 vouchers and third place £25 vouchers.
Ashley Pearce, Economics teacher says of the project, "I think it is one of the proudest things of my teaching career, setting this project up and keeping it going so long. It is something different and something the students really benefit from."
SPREADING JOY
Pupils in Year 7 and 10 spread some much-needed Christmas cheer amongst elderly residents in December by producing handmade Christmas cards and singing carols in the courtyard.
Year 7 students distributed handmade and handwritten cards to elderly residents of five care homes including Bridge House and Loddon House in Twyford, The Mount Care Home and Elizabeth Court in Wargrave, and finally 100 at Sunrise of Sonning.
Students in Year 10 visited residents at Bridge House in Twyford to perform traditional Christmas carols in their courtyard just before Christmas.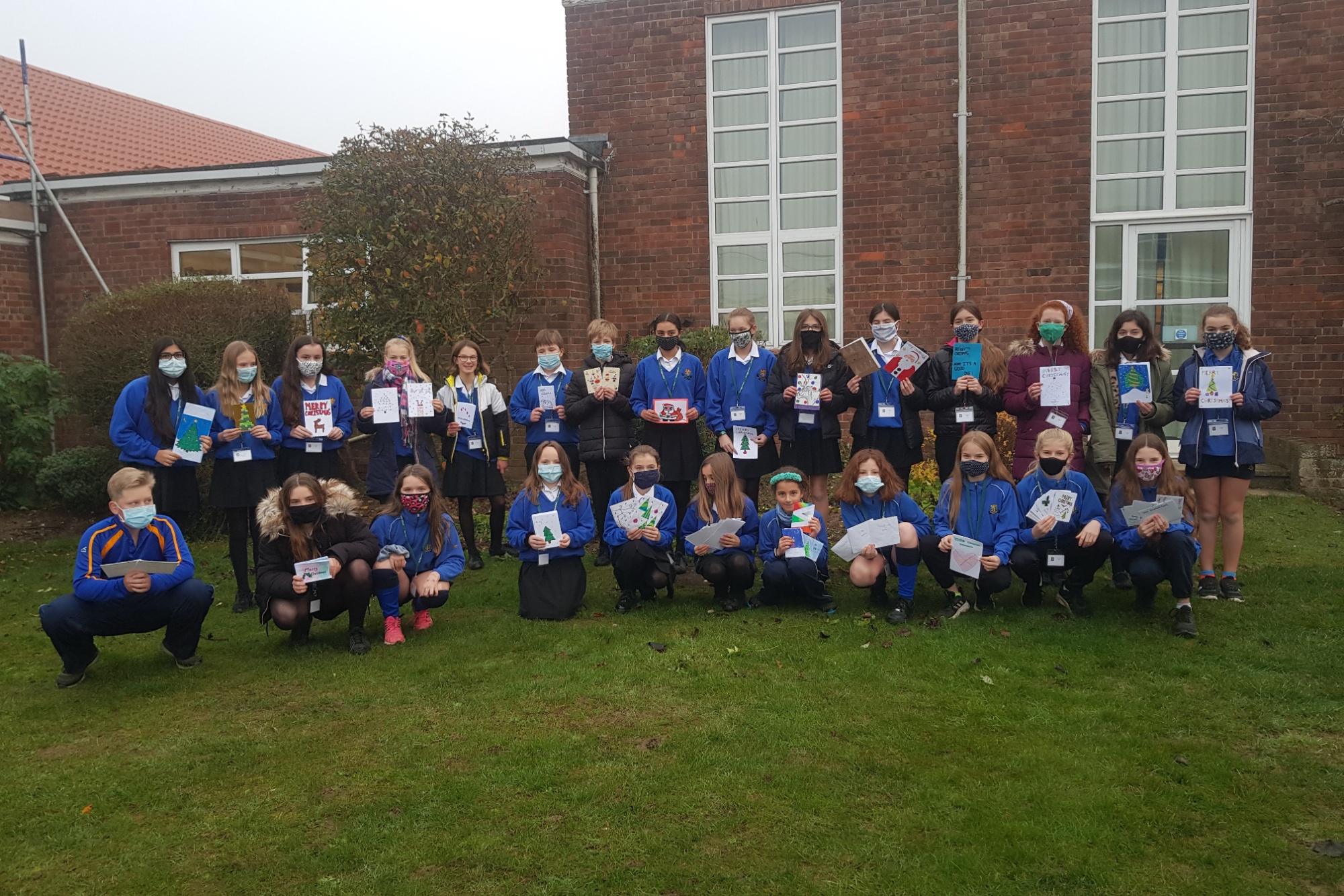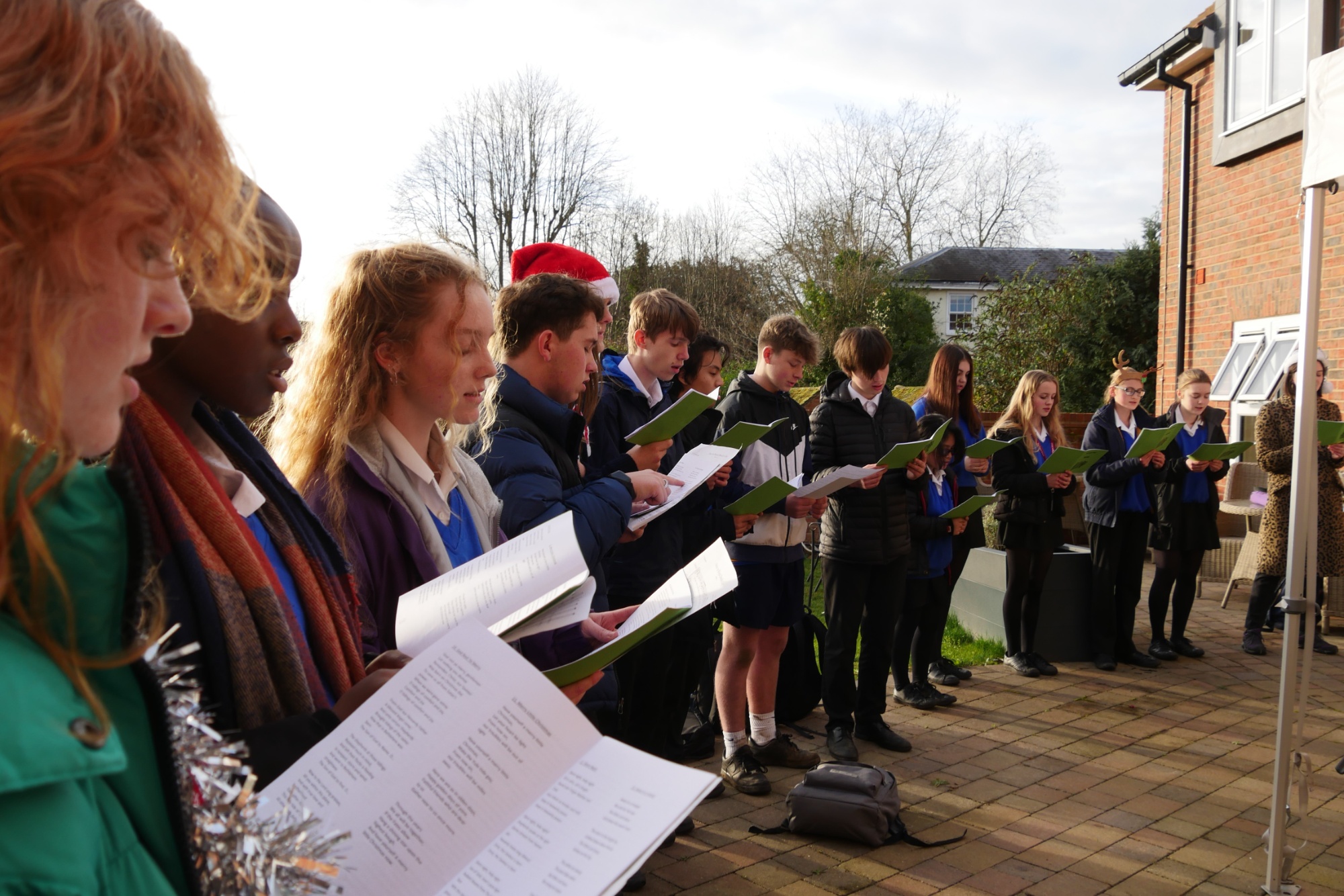 GO AND DO LIKEWISE
Driven by our school's vision to "Go and do likewise" and Jesus' command to "love thy neighbour as we love ourselves", Piggott families generously donated over 35 large crates of food and other sundry items to ReadiFood, an independent food bank providing food parcels to those in severe need in the greater Reading area.
We are delighted to announce the amazing success of our Harvest Festival food collection for Readifood. Wewould like to thank our Piggott School families who so generously donated to the cause. The collection of over 35 large crates contained much needed supplies of non-perishable food items, as well as nappies, wet wipes and other sundry items.
To encourage donations, we held a friendly competition for all tutor groups to see who could donate the most. We congratulate 8FL and 7DC who are our joint winners this year.
Thank you again for all your hard work to support our community and spread love during this difficult time.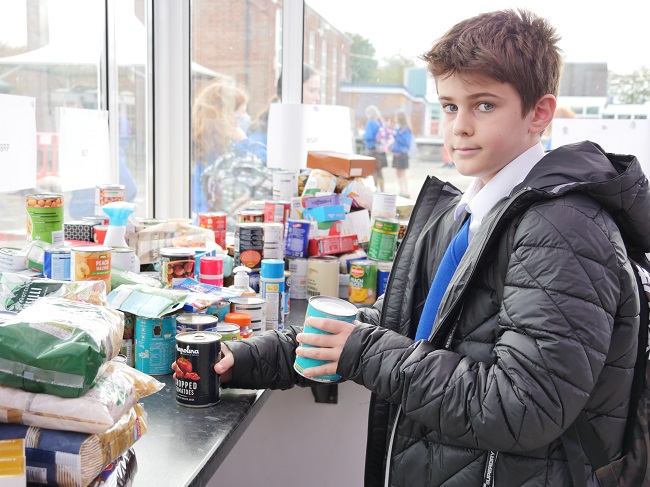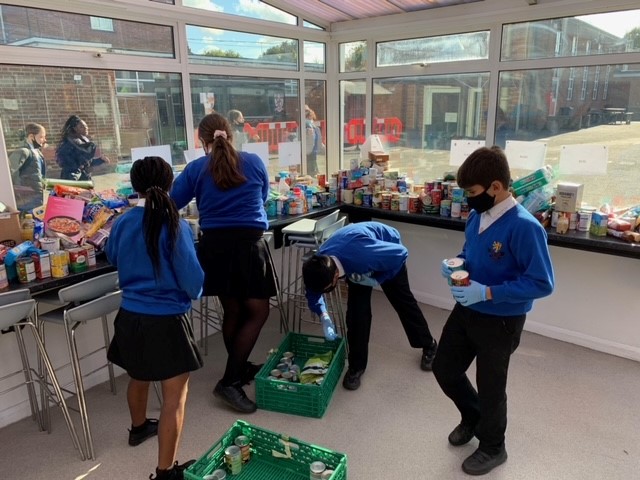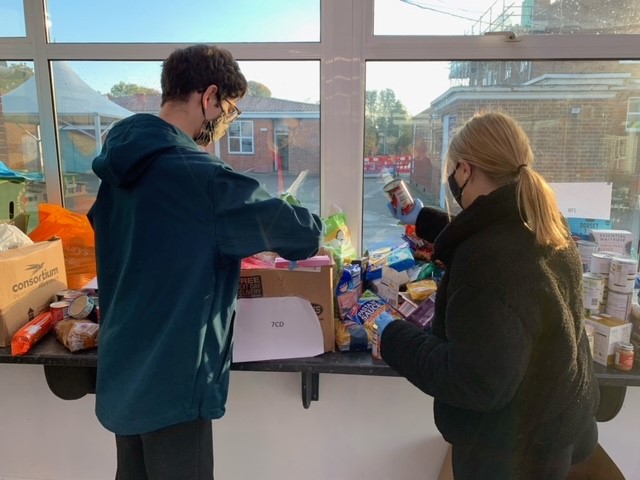 THE FORGIVENESS PROJECT
On Friday 5th April last year, we were privileged to borrow The Forgiveness Project Exhibition from a local Church who were hosting the project for two weeks, and use during our normal RE lessons.
The 'F Word Exhibition' is a thought provoking collection of arresting images and personal narratives that explore the theme of forgiveness across all nationalities, ages and races. The themes raised in the stories connected with topics that we study in KS3 and GCSE RE, and so we took the opportunity to host the exhibition for one day.

We refashioned the drama area and an RE classroom as exhibition rooms, with over 20 stories laid out for the students to read and reflect on.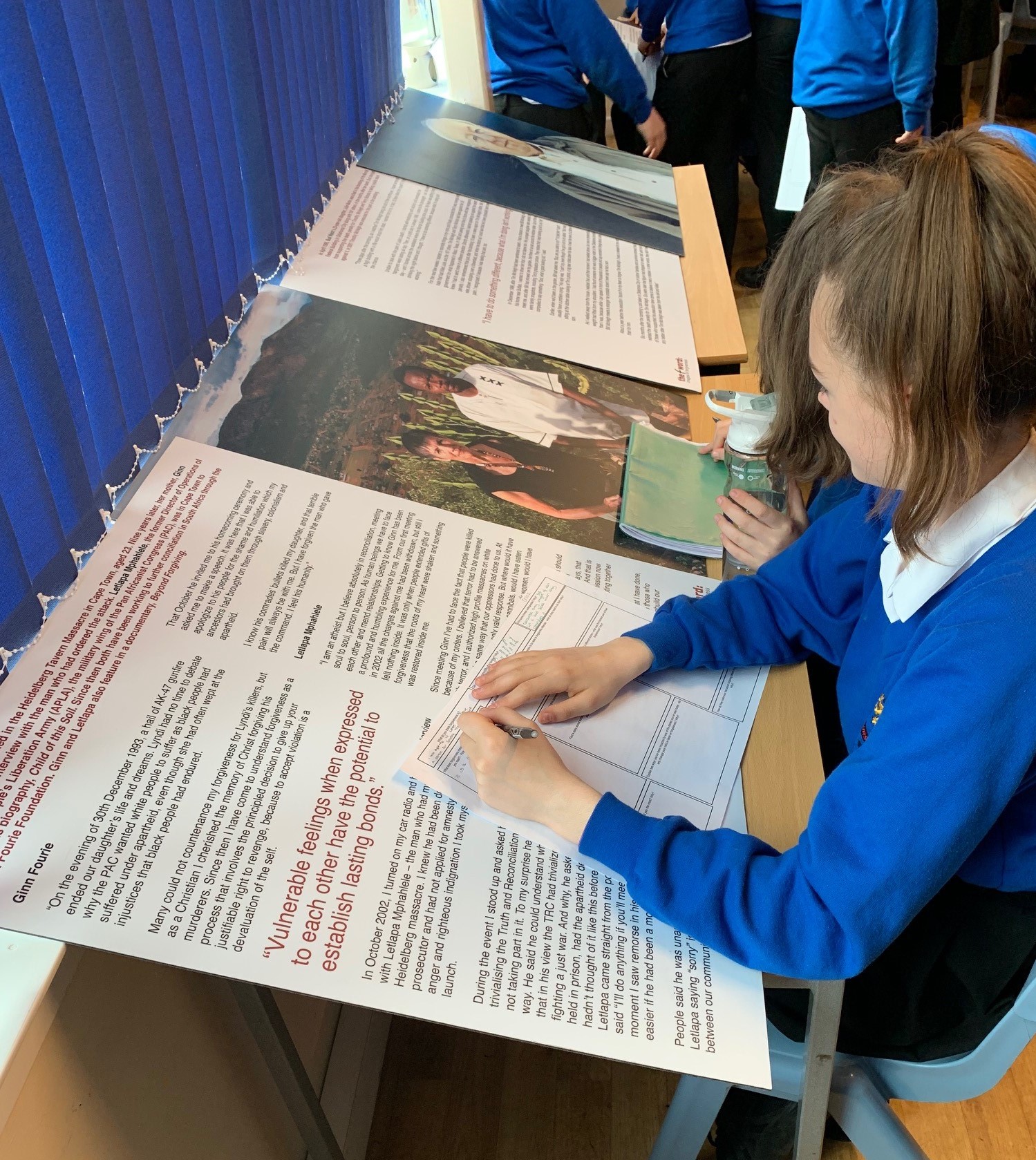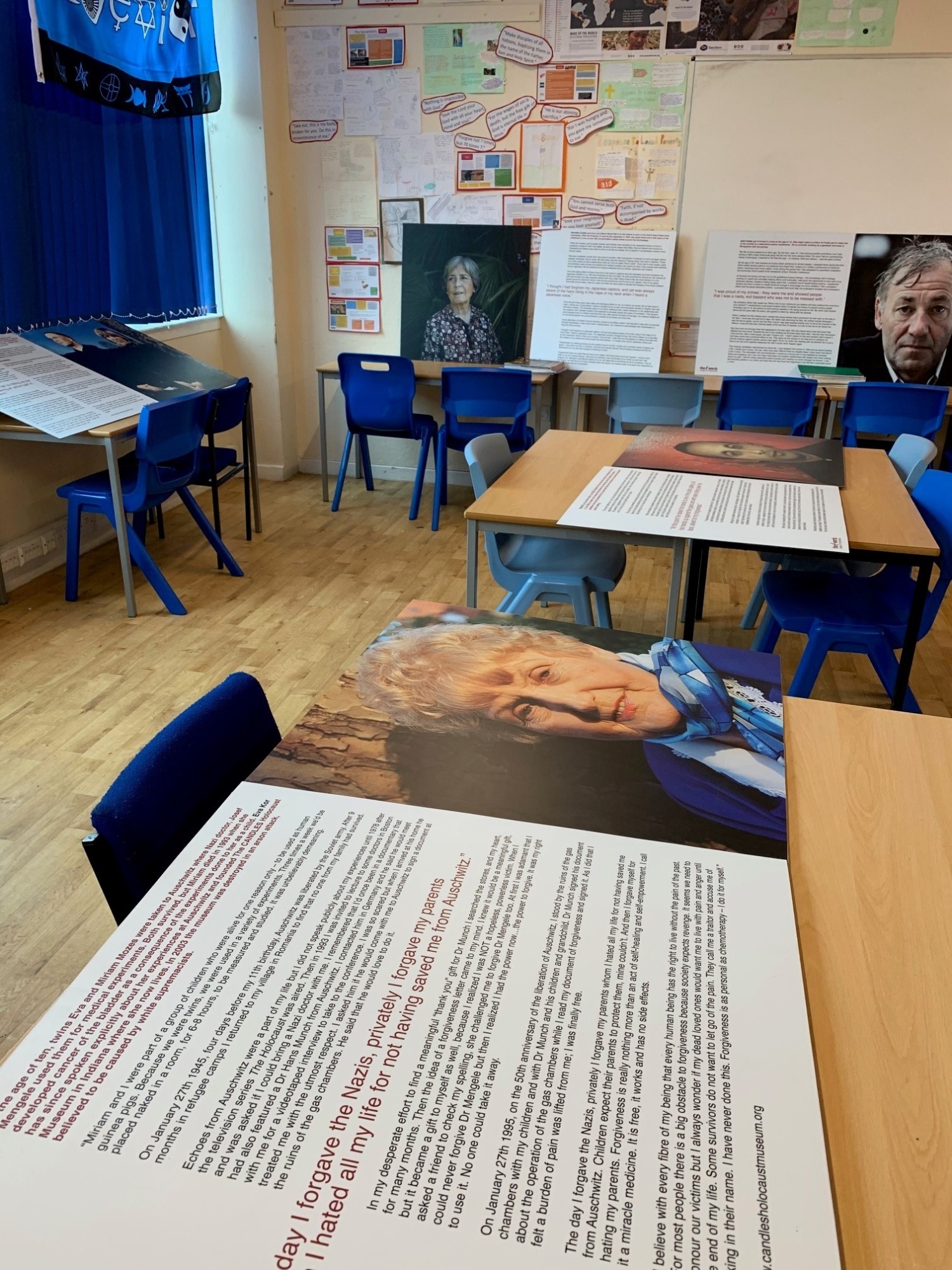 Pupils walked around in pairs and reflected on the stories in conversation, through a personal response worksheet and through reflective art. The stories led to challenging conversations, and encouraged the pupils to think about how they might respond differently when faced with hate, bitterness or resentment in their own lives.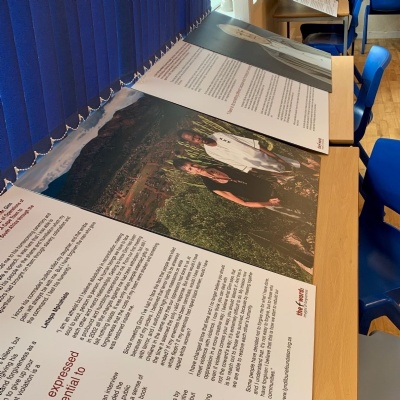 All the students who had the chance to journey through the exhibition really valued the stories, and some wrote positive postcards back to The Forgiveness Project organisation. One student commented "I was very shocked by the Story of Hannebe Coats but I found her story of forgiveness very inspirational".
With the success of this taster session, we hope that we can use The Forgiveness Project in more detail and with more students next year.
Mr T Stone
Teacher of RE