Computing/IT
Vision
We analyse, design, create, test, evaluate and refine to become agile, resilient problem solvers.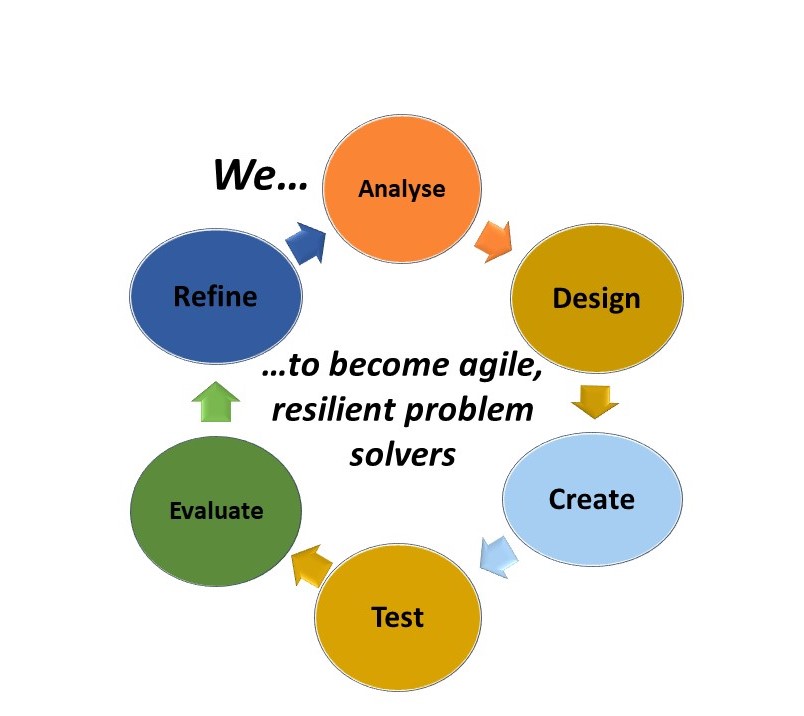 Curriculum Aims
The aim of our curriculum is to enrich students with a range of skills to be successful in life, beyond school.
Students must leave us with the confidence to access a whole range of knowledge and applications.
The curriculum is designed to build challenge as student's progress through the school, and with a view of giving students access to whichever pathway they choose to take beyond.
We strive to build independent learners.
Assessment is always focused on improvement.
We actively encourage different pathways within our courses and the curriculum area as to ensure the needs of all learners are met
Curriculum Intent
We work to the highest criteria - everyone is expected to aspire to that standard. Computing/IT is an exciting subject to teach and learn. It benefits students with interests in different subject areas. The department is led by strong subject specialists who act as great role models for the subjects.
KS3 curriculum:
Curriculum Intent
Challenging and broad/diverse
Progressive- topics introduced in year 7 are re-visited, and more in-depth study done in Year 8
Career-focussed - students know what to aim for, and aspire to
Strong depth and variety of programming languages and styles
Clubs / Industry trips also add to interest in the subject/ careers
Reflective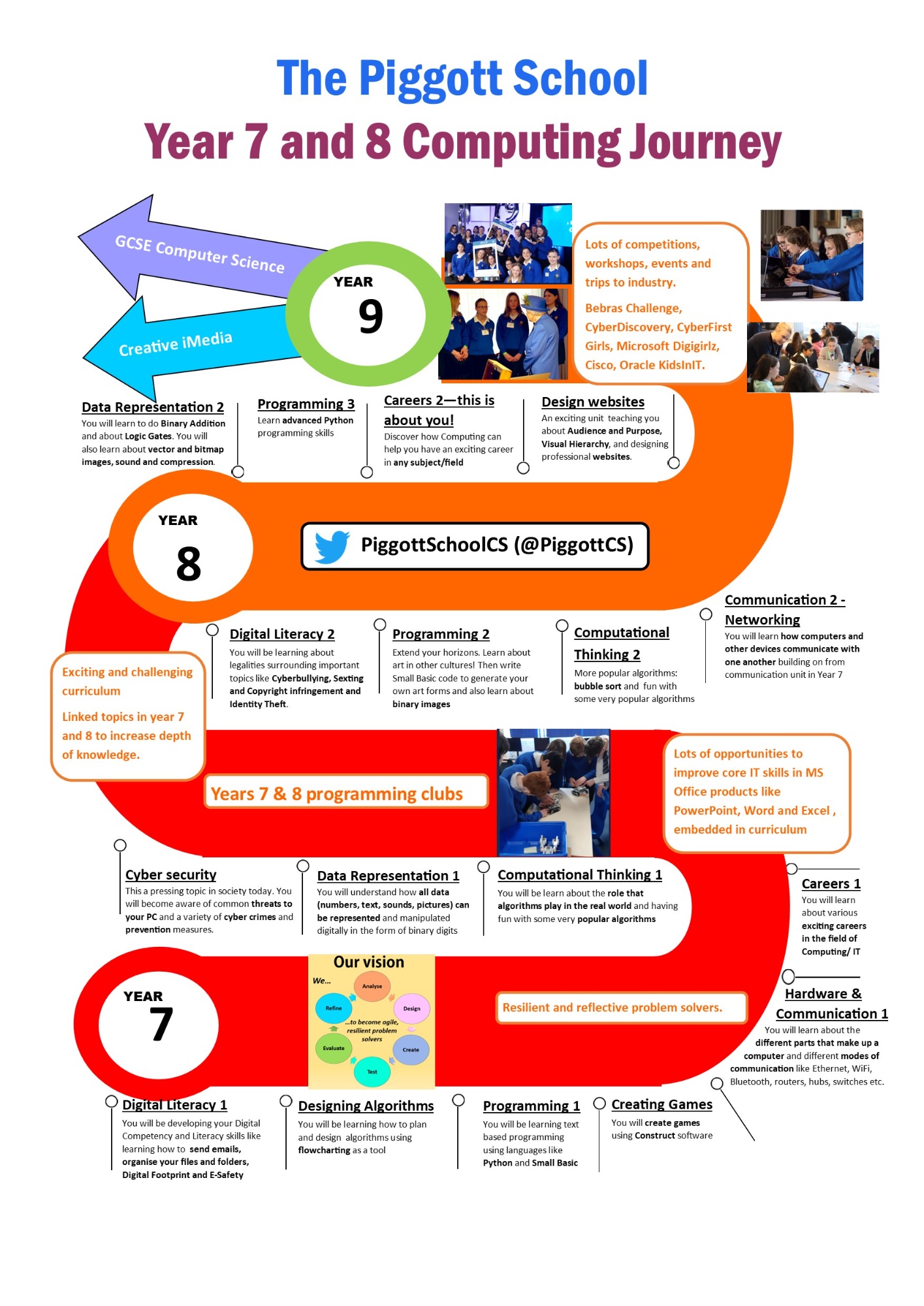 KS4 Curriculum:
Curriculum Intent
Lot of value added over exam content
Building resilience through independent work and problem-solving
Career-focused
Refine
We offer two pathways:
GCSE Computer Science
Very strong programming focus
Paired programming (industry practise) / team-project work
Creative iMedia (IT pathway)
More vocational focus
Developing creativity of design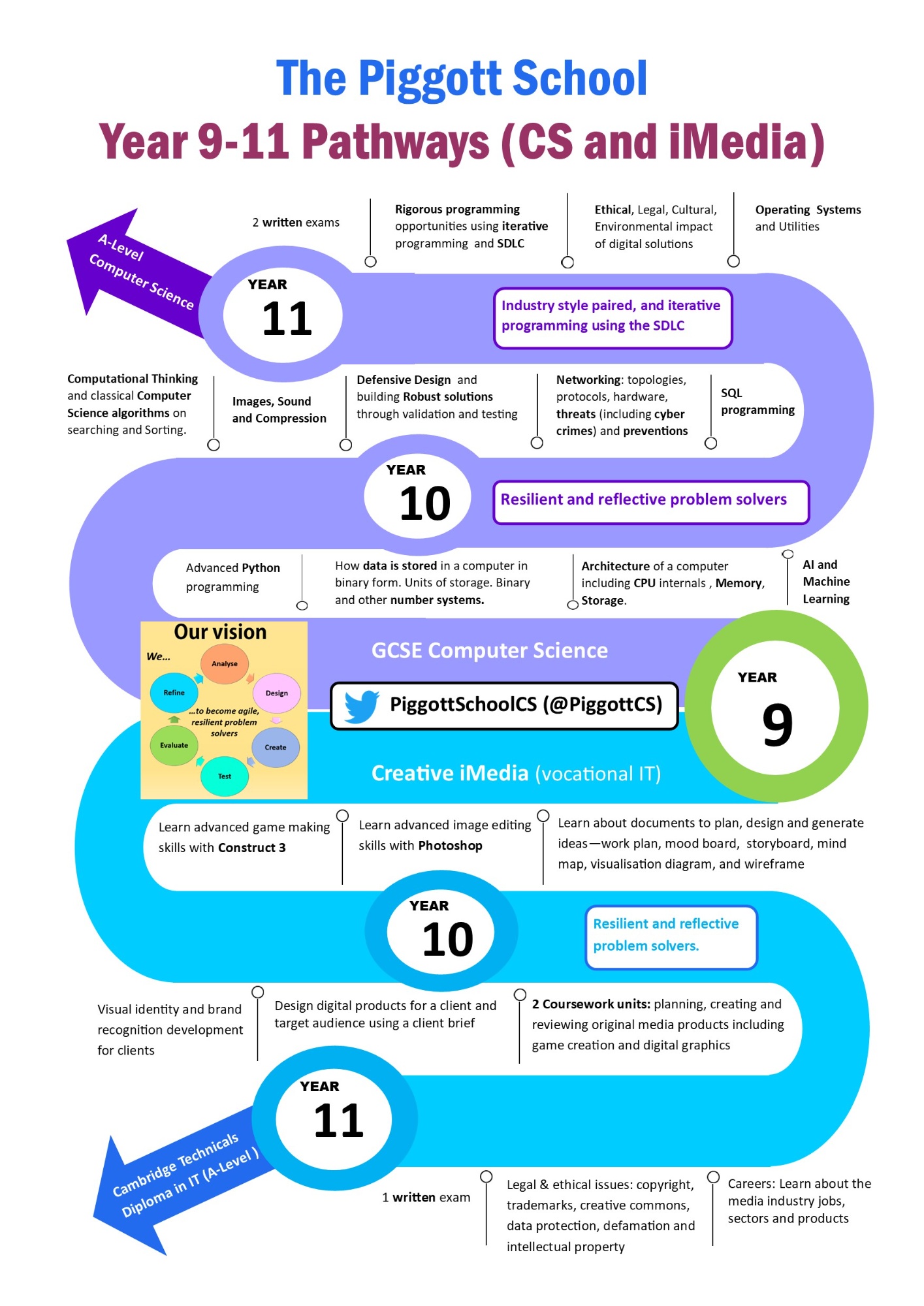 KS5 Curriculum:
Curriculum Intent
Lot of value added over exam content
Building resilience through independent work and problem-solving
Very strong programming focus
Paired programming (industry practise) / team-project work
Career-focused
Refine