German Exchange 2023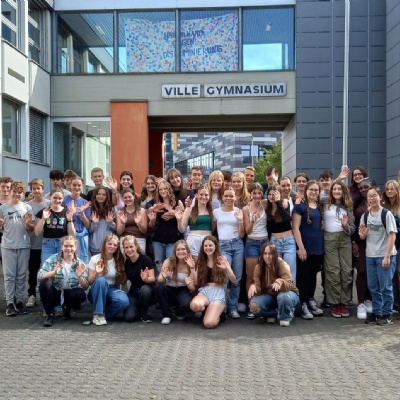 German Exchange September 2023
On Wednesday 20th September, 21 students from Years 10, 11, 12 and 13 flew to Germany for a week to take part in the German Exchange, accompanied by Mrs Schgör, Mrs Rawlings, and Mr Hersent. Our partner school is the Ville Gymnasium in Erftstadt (Wokingham's twin town) near Cologne. It was a busy week spent with the host families, some time in the partner school, day trips to Burg Eltz, Koblenz, Cologne cathedral and chocolate museum, Bonn and Königswinter, a boat trip along the Rhine, and our 6th formers did some work experience in a local primary school. Our students made the most of the experience, enjoyed practising their German and were superb ambassadors for our school – we received many compliments on their behaviour and enthusiasm for getting involved.
Here is an account from one of our 6th formers:
Flying to Germany and meeting my exchange partner in person for the first time was a truly awesome experience. It was fantastic to be able to speak to them (in German!) and to see what the Ville Gymnasium was like.
Going to their house on the first day and meeting the host family was also wonderful, and it was fascinating to explore how German people live day to day and how it differs from English people.
The school trips were fun, particularly visiting Koblenz and the Deutsches Eck. I explored the town there for a bit with my exchange partner, and we bought some chips and chilled for a bit. I also visited Cologne and Bonn. One of my favourite trips was supporting Wolfsburg as they played against Dortmund on Saturday, but unfortunately, they lost 1-0.
A lot of my mornings were spent doing work experience at a primary school, and we answered some of the questions the children had about England. There were also a couple English lessons there and it was interesting to see how it was taught. We also helped the children with their work and it was good German practice.
Most of my evenings were spent with my exchange partner, his friends, and their exchange partners, and we were doing so much together at my exchange partner's friends' houses. For example, playing football, table tennis and volleyball together. It was also so relaxing to just chill and speak together as a group about stuff and it was a great atmosphere. I also got to know more people from Piggott who were also on the exchange because of this.
The food was tasty, and my personal favourites were Doener kebab and the Eiscafe. I recommend to also try the food that you may not find in England.
To anyone taking a language for GCSE or A level you should have the opportunity to do an exchange whether it is Germany or not, and it is 100% worth it. You will get to know so many new people and it will be so fun being in a different country and speaking a language you are familiar with.
Comment from a Year 10 student: "It was an amazing trip, me and my partner have already planned another one !"