Record number take up computing challenge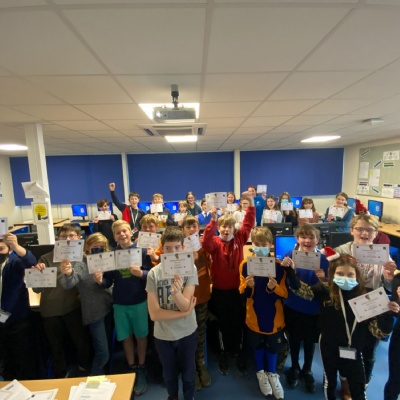 Over 500 students from Years 7 – 10 and 12 - 13 took part in the Bebras Computational Thinking Challenge last November for a chance to make it through to the Oxford University Computing Challenge (OUCC), a prestigious event in computational thinking.
Of that number, 78 Piggott students scored in the top 10% nationally, automatically giving them a place in Oxford University's 'invitation-only' event.
We had 3 students selected from Year 10 & Year 12, 12 students from Year 9, 18 students from Year 8 and a record number of 42 students from Year 7.
The first round of the annual OUCC challenge is held online in schools and supervised by teachers with participants' solutions auto-marked by the OUCC system.
Following this, the top 20 students in each age group are invited to Oxford University to compete in the final.
This is our third year participating in the challenge. Last year, Piggott twins Finlay and Oliver (Year 9) remarkably achieved a top 20 place after competing against 3,875 students nationwide in the Year 8 & 9 age OUCC category.
In 2020, finalist Matthew Sullivan (Year 12 at the time) won the chance to spend the day at Oxford University attending seminars, a prize that inspired him to go on to study at Oxford University.
The OUCC is an invitation-only event which aims to encourage students to develop their skills further and produce programmed solutions to computational thinking problems.
Just before the end of Term 1, students received their certificates. Take a look at the photos here: