Students awarded Bronze Crest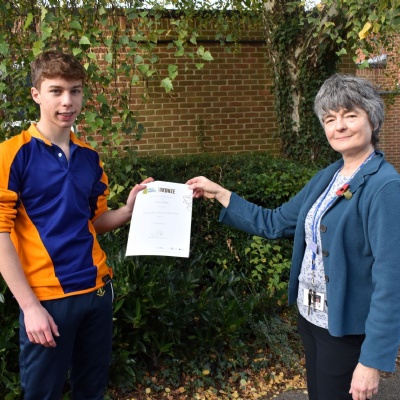 Students address real world problems through CREST Award
A group of Year 10 students successfully completed their Bronze Crest Award this year and were recently awarded their certificates by Mrs Elliott (Head of KS5 Chemistry) in recognition of the successful projects they planned and executed addressing a real-world problem.
The Bronze Crest Awards introduce students to project work empowering them to work like real scientists, technologists, engineers or mathematicians. Students choose their own topic and methodologies, giving them complete freedom over their work.
Bronze projects are assessed against the CREST assessment criteria and the project process develops enquiry, problem-solving and communication skills.
This year the students' topics included:
Assessment of the quality of the school pond as a first step to using it as an educational resource.
Determining how to make your own fizzy drink
Growing food using aeroponics
Investigation of chromatography (which is used in lateral flow tests)
Investigation of dehydration
Not only did these students complete their topics over and above the required CREST standard, but they also did so during difficult COVID-restricted times, completing a lot of their work at home and online.
Congratulations to Anoushka, Aiden, Alex, Arthur, Annabel and Evie.