Student led virtual games night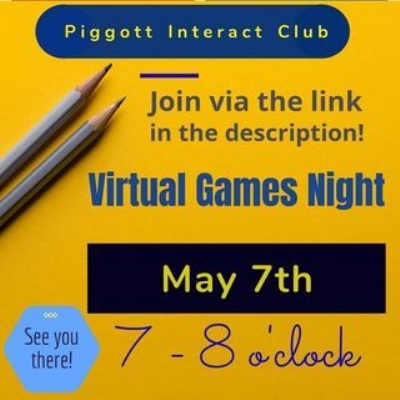 The Piggott Interact Club, set up by Year 12 business students Ellie, Jack and Maia, is hosting a Virtual Games Night on Friday, May 7th at 7pm, from which any donations will go to Daisy's Dream, Camp Mohawk, and Alexander Divine Children's Hospice Service. They will be playing three games including Boggle, Bingo and a sports Kahoot, all hosted by the students.
These games will be tallied up in points, which are accumulative across all three games. The team that gets the most points in all games will win a £10 Amazon voucher.
Have a bit of family fun this Friday night and support this student led initiative.
To sign up click here: https://forms.gle/mmdzbrXdjGAAWS7SA or visit the Piggott Interact Club's Instagram Account @piggottinteractclub. Donations are welcome but not required, and on the form to sign up is more information about that.
If you want to donate, the information you will need can be found on the forms page and your donation will be going to some great charities.