Piggott School Equestrian Team Success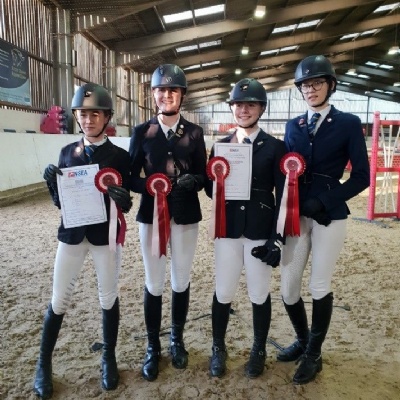 We were delighted to receive news about the school equestrian team and their recent success at the Royal Windsor Horse Show qualifiers. The team are all current students who ride under the name of The Piggott School and we are very impressed by their hard work and dedication.
On Sunday 20th January The Piggott School team won the Royal Windsor Horse Show qualifier at BCA out of 20 teams! The team comprised Sophie Sparkes (Year 9) and her pony Marno, Ele Sparkes with her horse Austin, Alice Gardner with her horse Caspar and Jemima Maxwell with her horse Arno, (all Year 11). Sophie also achieved individual 1st place out of over 90 competitors. As well as qualifying for Royal Windsor the team also qualified for the NSEA County Champs and Sophie qualified for County championships as an individual. They then contested the Hickstead qualifier to come 3rd (first two teams qualify) but were just out of the qualifying places so will be trying to qualify again at the next competition.