German Exchange Visit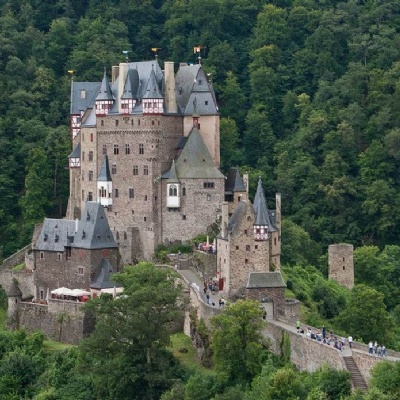 The Piggott School have recently completed another successful exchange visit to Erftstadt in Germany.
The Piggott School has a long-running association with the Ville-Gymnasium (Grammar School) in Erftstadt, near Cologne, and this well-established exchange has proved very popular over the years. Here is an account of the experience from one of our Year 10 pupils:
At 6:40 am on Saturday, 29th September, we met at school to make the great 7-hour trek in a coach, all the way to Germany to meet our German exchange partners.
We spent time with our exchange families visiting local sites. I went to Gaia Zoo, Aachen and the cathedral with my exchange family.
During our time in Germany we went on numerous excursions. One day-trip was to Burg Eltz, an impressive medieval castle above the Moselle River. Later we drove to Koblenz where we all went shopping. We found a shop selling Christmas decorations (yes, on the 1st October!).
On another day we went to Cologne and climbed the cathedral tower, all 533 steps! The steps were stone, and very narrow. You can see right across Cologne from the top of the tower. After the cathedral, we walked along the Rhine to the chocolate museum where we got free chocolate! We tasted different components of chocolate, and chilli chocolate! There was a chocolate fountain, where we got wafers dipped in melted chocolate from a pool of chocolate with some ornate statue thing on top. On the way out, we got a small bundle of chocolate! We visited the chocolate shop and some of us bought more Lindt chocolate. Afterwards, we had some shopping time in Cologne.
We went to the Haus der Geschichte museum where we learnt about Germany during and after WW2, the divide of Germany, and the Berlin Wall coming down. It was interesting and showed how different life in Germany was then to how it is now. We also went tobogganing and to a winery for a wine-making tour where we tried different grape juices.
We were in Germany for Reunification day, a day celebrating the Berlin Wall coming down. Many people spent the day in Phantasialand. It was really busy there!
We spent a day in school with our exchanges. School in Germany is very different from English school, as they wear their own clothes and their days start at 8.10am, but they all have different length days.
On the following Saturday, we said our emotional goodbyes, and we all still miss our exchanges in Germany. It took about six hours to get home and the traffic wasn't too bad. Overall, it was a very enjoyable trip.