Spirituality
The Piggott School is a Church of England Academy within the Diocese of Oxford. With a strong Christian foundation, our school community is committed to exploring life in all its fullness. Christian love, agape, is at the heart of our school and our vision reminds us of the importance of selflessness, charity and kindness. Our curriculum and day to day life at the school offers a bedrock for all of our community to explore faith, humanity and spirituality.
Our approach at The Piggott School first starts with acknowledging that spirituality will be a different experience for all individuals and that students and will be at different stages of their own journey.
Offering spiritual experiences at school for different world views and faiths, will allow our students to understand how they see life as a whole. Spirituality will offer space for reflection, appreciation, and an opportunity to grow together. This space will be open-ended and undetermined and will allow our students the autonomy to lead their own independent thinking whilst developing a sense of self, alongside the strength gleaned from their peers. As a school, we see this opportunity for personal growth as an imperative part of the learning experience, securing resilience and self-belief in the young people in our care.
Our challenging and inspiring curriculum will provide many opportunities for quiet and contemplative thought. An opportunity for spirituality may be identified by staff or students during their learning. The learning will pause in order to support a deeper understanding and appreciation of the current topic. There are many different strategies that can be used to explore spirituality and we encourage staff and students to explore their chosen medium for reflection.
As a school, we have chosen to use the Windows, Mirrors, Doors concept as a common reflective structure for spirituality. We have developed the model and to ensure it is accessible for all of our students from EYFS through to Year 13.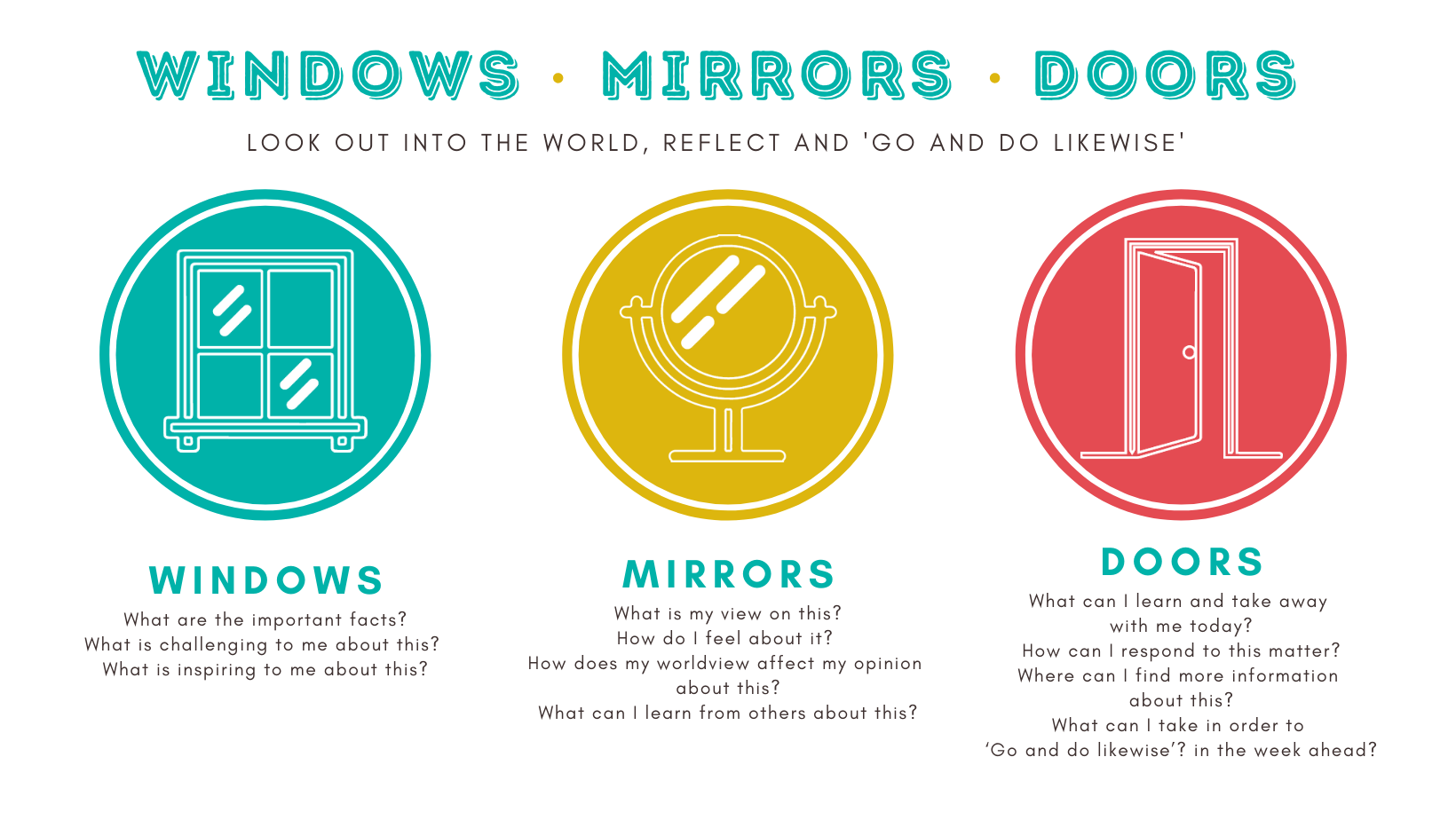 It explicitly encourages an individual to look out into the world and develop knowledge around a given topic or theme. Skilfully, we encourage students to ensure that they explore a variety of windows within the tower of knowledge, guarding against a linear view on the topic prior to reflection. Using the mirror, they will explore their own thoughts, promoting questions and an opportunity for deeper consideration regarding the changing of mindsets and personal development. Finally, looking forward to 'the door', our students will consider their learning and their contemplations whilst preparing for how they might develop new behaviours and thinking. When reflecting on the door, students will think to after they leave their lesson and how they can take what they have understood about themselves and the world into the community in order to lead or model change. This links reflection to action within our vision of 'Go and do likewise.
Spiritual development will happen in all aspects of school life at The Piggott and beyond. There will be opportunities in the classroom woven throughout our curriculum, there will be space and time given during our collective worship and SMSC learning but most importantly, there will be opportunities to encourage students to lead their own spirituality so that it becomes part of their normal routine and part of their self-care. We are committed to modelling, leading and supporting all of our school community to enjoy and appreciate the strength and faith in oneself that spirituality can bring.