Year 2's trip to Portsmouth Historic Dockyard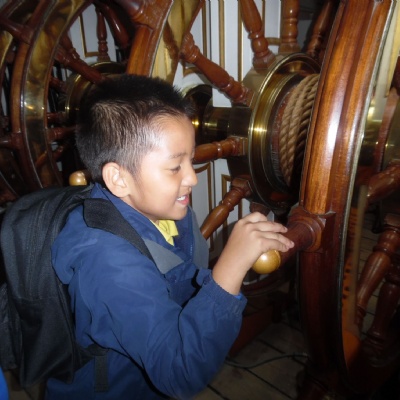 On Tuesday the 11th of July 2017, Year 2 went to the historic dockyard at Portsmouth. When we arrived we went to Boathouse 7 and had a yummy snack.
Next we had a good look around the HMS Warrior (a Victorian battleship) it was great fun exploring it. On the top deck we saw canons, then we went down into the boat and we saw guns, smaller canons and sharp, spiky swords (which had never been used). Then we walked down the steep, narrow slope of the HMS Warrior back to Boathouse 7 where we had delicious lunch (Nancy and Matthew P's favourite bit). It was yummy scrummy!
After lunch we went back to the HMS Warrior to do our workshop where we learnt about what it was like in the Victorian times when we were at the seaside. We did 5 activities, they were: promenading, crabbing and making gigantic sandcastles, fishing, Punch and Judy and inside play. We all got the chance to wear dresses and suits because that is what the Victorians went to the seaside in.
At the end of our workshop we made our delicious sugar mice. To make one you would need; two currants, a strip of icing sugar and string. First you need to take a small piece of icing sugar off the big piece of icing sugar to make the ears with later. Then you need to roll the big bit of icing sugar into a ball. Afterwards you need to use your pinchy fingers to pinch a nose shape into your big ball. Then we put a bit of string in the mouse's bottom and pinched around the string to keep it in place (this will make the tail). Next we split the little bit of icing sugar into two small bits for the ears. We had to roll them flat and pinch them to make the flappy ear shape and pushed them in carefully. Finally, we put the tiny currants on either side of its nose to make the eyes. We hope you enjoy them if you make it!
At the end of the day, all of us quickly got back to the coach and the coach took us all the way back to school as we waved goodbye to Portsmouth. Although it was tiring it was very exciting! We had a tremendous time!