Year 8 Girls Cyber Security Success!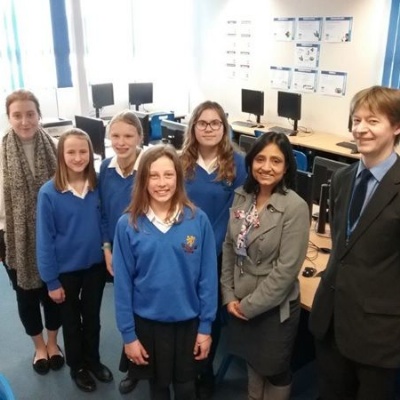 This year, The Piggott School gave Year 8 girls the opportunity to take part in the CyberFirst Girls Competition, organised by the government's National Cyber Security Centre.
The competition is designed to encourage girls to consider a career in cyber security, and to have fun in the process. 18 girls from Piggott formed 5 teams between them, and spent a week solving online puzzles and challenges in the areas of:
Logic and Coding
Cryptography
Networking
Cyber Security
All of the teams managed to solve several of the problems. And one of the teams, known as The Computifuls, showed such commitment and ability that they have reached the final of the competition, which will take place in Manchester in mid-March. This is a remarkable achievement, since only the top 10 teams in the country qualify, out of the 1,270 which entered.
Many congratulations to Jess , Megan , Zara and Callena.
The Computifuls, together with Piggott staff who organised the competition.
(L-R) Ms Walden, Jess, Megan, Zara, Callena, Mrs Bhattacharya, Mr Rimmer