World War 1 Commemoration Event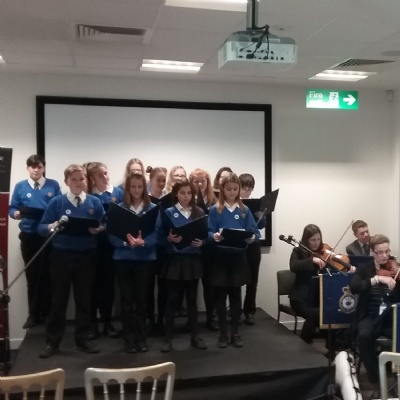 At the end of January members of the school choir were honoured to be asked to take part in the 'Never Such Innocence' World War I commemoration event at Commonwealth War Graves Commission Head Office in Maidenhead. Some of the special guests who attended the service were Vice Admiral Sir Tim Laurence, Air Vice Marshal Mike Wigston and the Prime Minister, Theresa May.
Never Such Innocence is an organisation which is dedicated to educating young people about the First World War, its impact and legacy, through poetry, music and art throughout the Centenary period.
Altogether there were four schools who showcased their view of the World Wars through songs, poetry and art. Many of the guests gave speeches to the audience about how Never Such Innocence is all about inspiring the next and many generations to come to remember, respect and reflect upon the horrific and painful years of war.
During the week, the choir was visited at school by a professional songwriter, Marty Longstaff, with whom we did a workshop on song writing. He gave us some top tips on how to create good pieces of music, and then we wrote some lyrics to put to the tune of Dam busters. It was a great opportunity to get to do something new, and we all had lots of fun. We later performed this piece at the Never Such Innocence service.
Overall, the trip and the service was amazing and a lot of inspiration was stored into our hearts. We now have a deeper respect and empathy for those that sacrificed themselves and fought for King and Country.
By Krupa & Alice
All 9-16 year olds are invited to submit poetry, art or songs inspired by the events of the Great War to the Never Such Innocence competition. The deadline for entries is Friday 16 March 2018 and details can be found at www.neversuchinnocence.com